Auntie's Dog Spa
Auntie's Grooming Salon in Bamber Bridge offers dog baths, dog washes, grooming and spa services to our discerning doggy clients. The shampoos, conditioners and products we use are the best available and our employed groomers are continually trained and attend conferences to ensure they are up-to-date with the latest grooming techniques. The equipment used in our grooming salons is top of the range and this equipment combined with our relaxing environment, seeks to minimise the stress to the dog, keeping them calm and content.
All our grooms and spa treatments are dog health centric, designed to ensure that your dog's coat, paws, eyes and ears are easy for you to maintain and most importantly keep the dog healthy.
What Services Does the Doggie Spa Offer?
What Services Does the Doggie Spa Offer?
Auntie's Spa operates on a booked appointment basis and allows you to drop your dog off at your, or a little before your, appointment time and collect them at an agreed time later in the day.

Prior to your first groom, a Full Consultation is offered so that our groomers can help pet owners find a manageable style for their dog that suits the dog's lifestyle.

On each subsequent groom, encouraged every 6 to 8 weeks to keep your dog's coat healthy and manageable, our fully trained groomers will check the health of your dog since their last groom and enquire of any changes you wish to make to style or length.

All our groomers are fully trained to a City and Guilds standard
and all retain Canine First Aid Qualifications.

Our fabulous range of bath and body treatments are formulated with the finest botanical plant and flower extracts to create therapies that will revitalise your dog and enhance their overall wellbeing.
Our Grooming Options & Spa Treatments

Puppy Intros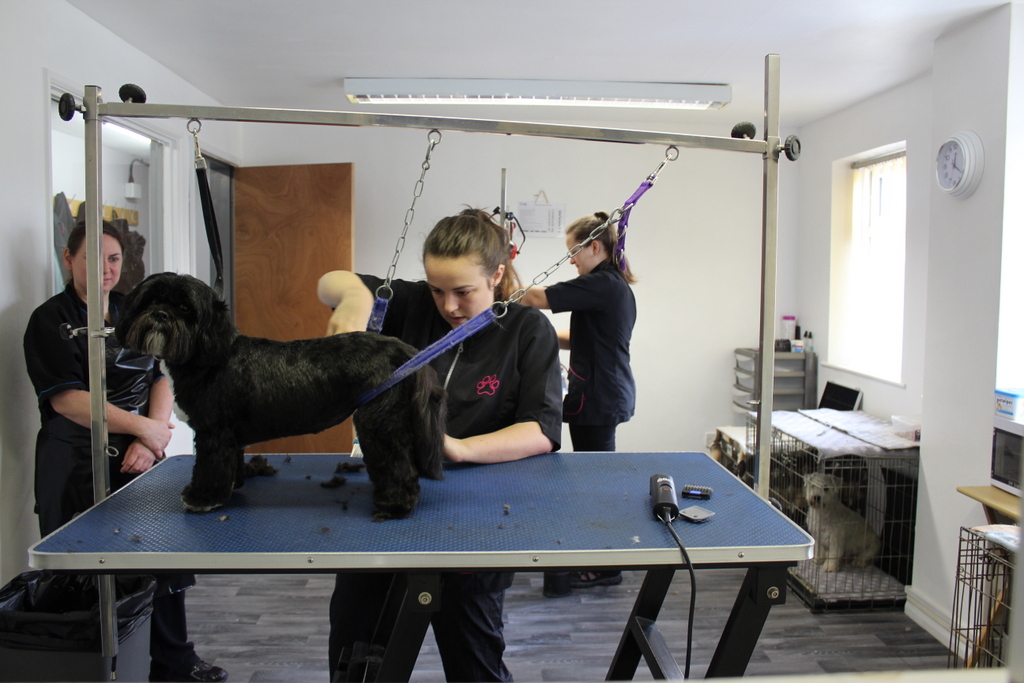 Introducing a puppy as early as possible to the world of grooming is essential and our Puppy Intros service is a highly effective way of getting your pup used to our groomers and the grooming salon ensuring they become comfortable with the process.
The program consists of four visits, a little longer each time, to the grooming spa acquainting them with the sights and sounds of the environment and the equipment so that when they have their first full groom they are totally at ease.

Each program sessions usually only lasts a few minutes while you wait in reception.


Puppy Intro £30 for a package of 4 visits.
Pricing: All prices are a guide only and in order to confirm a price please call the Spa on 01772 323850
All prices, guide or firm, are based upon pets with an even temperament that are regularly groomed. Dogs that need de-matting or have behavioural problems may incur further charges due to the additional time required to groom them.
We reserve the right to charge a £10 cancellation fee for appointments missed or cancelled with less than twenty-four hours' notice and any future bookings may be subject to a desposit. Please note that deposits are not refundable and will be taken off your final bill.
PLEASE NOTE: We groom humanely – dogs with severely matted coats may be shaved off or we may refuse to continue the grooming process if we feel the dog is in distress.